Music is a crucial component in any video, but picking the RIGHT music can make all the difference to how your viewers react and respond to your video.
That's because music creates an atmosphere, conveys emotions, and helps viewers to engage with the content you're sharing in your video.
When it comes to online music catalogs, there are a lot of options out there, which can actually make the process of choosing the right one for you much harder.
So in this post, we're going to help you narrow down the options by sharing our top picks for the best video background music options, both free and paid so you can create quality videos for your audience. 
We'll also explain music licensing and run you through some of the key things to consider when you're reviewing licensing agreements. Licensing can be tricky, and getting this right is super important if you want to avoid your video being demonetized, flagged for copyright infringement, or getting a YouTube strike. (Always verify licensing terms for yourself before using any music!)
Important: When available, we use affiliate links and may earn a commission!
Best Royalty-Free Music Sites for Your Videos
We're going to split our recommendations for the best royalty-free music sites into two categories which are:
1. Free Sites For Video Background Music: ideal for those just starting out who don't need an extensive music library.
2. Paid Sites For Video Background Music: ideal for more advanced creators who need high-quality tracks and a greater range of options.
Let's jump into our recommendations now!
Free Sites For Video Background Music
In the free category, we have three recommendations which are:
YouTube channels
Free Music Sites: YouTube
You may not know it, but YouTube actually offers free music that you can use in your YouTube videos.
To access this music library, go to YouTube Studio> Audio Library
While it's great that YouTube has a free music library, there are a few drawbacks that you should be aware of such as:
The number of music tracks in this library is quite limited.
Due to YouTube's popularity, a lot of people are already using these tracks.
You can only use YouTube's music tracks in YouTube videos. So, if you plan on repurposing your content and using your videos beyond YouTube, you'll be violating the licensing agreement.
Free Music Sites: Free Music Archive
Free Music Archive is a big step up from YouTube's music library because of the huge range of music tracks it holds.
The search functionality and the way they categorize their content makes it really easy to find exactly what you're looking for in Free Music Archive.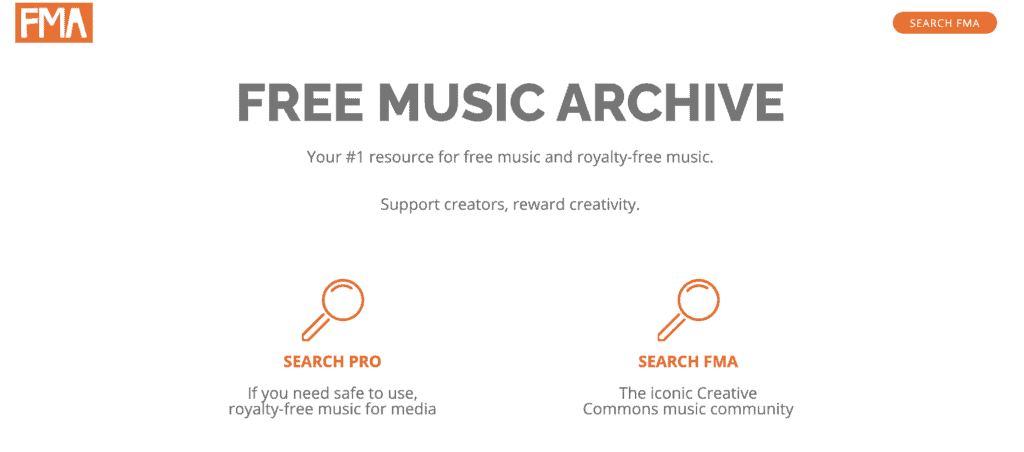 The biggest thing you need to be aware with Free Music Archive is their licensing agreement. Make sure you read through their licensing guide to ensure you're compliant with their terms and conditions because they are quite restrictive.
As a general rule, you'll need to give credit to Free Music Archive as well as the artist that created the music anytime you use their music tracks. The credits can be added in your video itself or in the text that accompanies your video, such as the Description area on YouTube.
Free Music Sites: YouTube Channels
Onto the third free option now.
If you do a quick YouTube search for 'Copyright Free Music', you'll find a lot of YouTube channels offering royalty-free music for you to use in your videos.
These channels offer a huge range of music tracks to choose from, which is great, but there are a few drawbacks that you should be aware of:
It's unlikely that all the tracks you want to use are all on the same YouTube channel. This means you'll need to spend considerable time searching through various channels to find what you're looking for. This could take hours!
In most cases, each channel will have its own terms and conditions that govern the licensing of their tracks. Keeping track of what usage rules apply to each track can be tricky, and it's not something you want to get wrong.
You'll also need to give credit to the artist or original creator of the music track.
Paid Sites For Video Background Music
If you're able to spend some money on your video background music, then we'd highly recommend doing so to make your life easier and your videos even better.
Paid platforms give you access to much bigger catalogs of music, often with higher-quality tracks and better search functionality to help you find exactly what you're looking for.
These paid services offer both monthly and annual subscriptions that are generally more transparent about what licensing agreement you're signing up for.
Our top three sites in this category (in no particular order) are:
Paid Music Sites: Epidemic Sound
Epidemic Sound has a large music library made for YouTubers, content creators, and also businesses.
We love Epidemic Sound because you can quickly filter through their massive library thanks to the search functionality that allows you to narrow it down by genre and even the mood you're looking to create.
But Epidemic Sound is much more than a music library. It also has a huge amount of sound effects that you can use in your videos. The sound effects are part of the package so you don't need to pay extra for them which is awesome.
Pricing
Epidemic Sound gives you three pricing categories to choose from which are the:
Personal Plan: This plan is made for individuals looking for music tracks for their personal channels. It gives you access to unlimited downloads of tracks and sound effects that you can use regardless of the number of followers you have. And each track is cleared for use on YouTube, Facebook, Instagram, Twitter, Twitch, and Podcasts. The personal plan is US$15 per month or US$144 per year.
Commercial Plan: This plan is ideal for freelancers and businesses looking to use the audio tracks for commercial purposes. This plan gives you access to everything in the personal plan, plus the license to use the tracks in any form of digital advertising. This plan goes for US$49 per month or US$299 per year.
Custom Plan: This one is ideal if you plan on using the music tracks in TV ads or broadcasts. There is no fixed price for this plan but you can get a same-day quote if you're interested.
In addition to the subscription plans, Epidemic Sound also allows you to purchase individual music licenses which start at US$99 and can go as high as US$2,000.
Paid Music Sites: Artlist
At Primal Video, we've been using Artlist for a long time because, like Epidemic Sound, they also have an extensive catalogue of music, good search functionality, and a well-priced offer.
Whilst all three options in this category make it easy to find music, Artlist goes one step further with the way they categorize their tracks that makes it the easiest out of all three options to find what you're looking for.
Pricing
Artlist has a super simple subscription model which is another reason why we love it. You only need to pay a single fee and that gives you access to pretty much everything.
You can use all the music tracks on any online platform, for any purpose (including commercial and broadcast), so there's no need to worry about licensing agreements or upgrading to more expensive plans.
The price for this single plan is US$16.60 per month or US$199 per year.
Paid Music Sites: Musicbed
Musicbed is another great option when it comes to paid video background music sites and arguably has the highest quality music out of our three recommended sites. In fact, most of the music tracks with vocals are so good you'd expect to hear them on the radio!
Musicbed has a phenomenal library of tracks and also packs a powerful search function that will search for songs with a particular word mentioned in the lyrics.
Pricing
Musicbed has quite a few pricing options which are the:
Personal Plan: This plan covers you for YouTube and social media content that you won't be running as an ad. The price is US$9 per month.
Non-Profit Plan: This is a plan for organizations like schools and churches. It goes for US$19 per month.
Wedding Plan: This is a specific plan made for wedding videos. It is US$59 per month.
Business Plan: This plan allows you to use the track for advertising or any other commercial purpose. It is US$89 per month.
Like Epidemic Sound, you can also purchase an individual music track without needing to take out a subscription. The price starts at US$49 per track on a personal plan or US$199 on a business plan.
Primal Video's Background Music Site Recommendations
So there you have, our top recommendations for the best video background music options, both free and paid.
If you're just starting out or simply looking for some basic music tracks, check out any of the free options like the YouTube music library, Free Music Archive, and searching for 'Copyright Free Music' on YouTube.
However, the paid music sites offer a much wider range of tracks, with simpler licensing agreements and greater search functionality. Plus, having all your music in one place can save a lot of time and effort down the track when it comes to finding the music you want for your videos.
Artlist is our top recommendation for anyone looking for the simplest solution when it comes to music licensing. Just pay one annual fee and you can download as many tracks as you want and use them for any purpose. (Of course, as with every option, their Terms & Conditions are always subject to change so make sure to check it fits your requirements!)
MusicBed and Epidemic Sound are great options if you only want to use your videos on YouTube and have no interest in converting them into ads in the future.
And don't forget that most of these paid sites offer a free trial, so test them out first to find out which one you like most before buying.
Now that the music is sorted, you can also get some royalty-free stock footage to add into your videos. Check out our top recommendations for the best footage sites here.
And if you're interested in learning more about video creation and how to edit your videos faster, check out our free guide, The Primal Video Method to learn our step by step process to cutting your video editing time in half!
---
Links
When available, we use affiliate links and may earn a commission!
Recommended Royalty-Free Music Sites:
Free Music Sites:
Paid Music Sites:
Recommended Tutorials:
---
Check out an up-to-date list of all the gear, software & tools we use and recommend right now at Primal Video on our resources page here!
Related Content