Using the right video background music is a super important element of creating great video content. Unfortunately, the process of finding the best royalty free music for videos can be stressful and time consuming.
If you don't have the licensing sorted from the beginning, it can come back to bite you down the track. Your video could be demonetized, flagged for copyright issues and you could get a YouTube strike (or worse…).
Important: When available, we use affiliate links and may earn a commission!
As a content creator, that's the last thing you want! Especially after you've spent a ton of time creating your videos and finding the perfect stock music tracks.
In this guide, we're going to take a look at some of the best options out there, including the best free stock music sites and paid royalty free background music subscription services that offer unlimited access to music.
Here's what we'll cover in this complete guide:
If you're looking for copyright free music for YouTube videos, chances are these royalty free music sites will have everything you need!
Let's get started with the free music sites.
Top Free Royalty Free Music Sites
These are the top free stock music sites we recommend:
YouTube Free Music Library
Creator Mix
YouTube Free Music Library
You can access this by going to your YouTube Studio and selecting Audio Library in the left menu. There are a bunch of different sound effects and music tracks you can use in videos on your YouTube channel.
Once you find a music track you like, you just need to hit Download to save it to your computer or device.
Some of the tracks in the YouTube library require that you credit the creator in the actual YouTube video – not just in the description. So make sure to keep an eye on those requirements.
PRO TIP: You can filter the tracks based on whether they require attribution or not.
Downsides
One thing to note is that these tracks are licensed for YouTube only! If you're creating a video that will be used on multiple platforms, YouTube's audio tracks might not be the best option for you.
Another thing to keep in mind is that because this is so popular, you'll likely find that the tracks on there have been used by a lot of creators in a lot of videos already. So if you're looking for something unique or specific, that's where the following options might be a better fit.
Creator Mix
Creator Mix is an amazing service that's totally free. It's a platform that was pulled together by creators, for creators – to make it easy for you to find music that you can use in your YouTube videos, social media content AND during your live streams.
You can use this music pretty much anywhere!
Now the size of the library isn't as big as some other options but the music they've got in there is really good quality. The library is actively being added to and built out all the time.
Creator Mix also owns all of the music exclusively. This means the chance of you getting a copyright strike from using the music is almost non existent.
And on the off chance that you do have any issues, you can download your license from the platform so you'll have everything you need to dispute the claim.
We really can't understate how awesome it is that these guys actually understand creators and what creators need. For example, they understand that in some cases it's not possible to easily give credit to the music creator.
So you should still give credit in your videos wherever you can, but it's not a requirement with Creator Mix for those videos where it isn't possible.
To get started, you just need to create a free account and then you'll have access to all the music on there.
Now let's take a look at the paid options.
Best Paid Stock Music Sites
If you're able to spend some money on your video background music, then we'd highly recommend going with a paid option.
Here's what you can expect when using a paid platform:
Way larger music library with higher quality tracks
Better search functionality that allows you to find exactly what you're looking for much quicker
Super straight forward licensing
All of these features make your life easier and your videos even better.
Our top paid video background music sites are:
Epidemic Sound
Epidemic Sound is a super popular option when it comes to royalty free music. It has a super large music library with over 40,000 music tracks and 90,000 sound effects.
The overall interface and platform is really intuitive, making it quick and easy to find the music you're looking for.
Just like Creator Mix, you have the ability to use these tracks across any of your social media platforms. Plus, they have a Commercial Licensing plan so if you want to use it in your client projects, you can do that too.
One feature we love is EAR (Epidemic Audio Reference). This allows you to find similar tracks incredibly easily, saving you a bunch of time spent searching. Finding the perfect music track for your videos can be a massive time sink, so anything that can help speed up that process is a massive plus from us!
Epidemic Sound also gives you access to stems – think of these like music layers from the overall track. You've got a melody stem, instrument only, bass, drums, and they are their own individual music track.
You can either use the individual piece that you want or you could change it in your editing, using a combination of these to build out a music track to create the feeling you need for your video.
There's also an Epidemic Sound app which is awesome if you're creating content using your smartphone.
Pricing
First of all, there's a 30 Day Free Trial so this is awesome if you want to test it out before jumping on a paid plan.
Epidemic Sound give you a couple of options for pricing:
Starter Plan – $6.99/month: Can publish tracks on all major social media platforms and allows you to download five tracks per month.
Personal Plan – $9.99/month: Can publish tracks anywhere online and gives you unlimited downloads. You can only use the audio tracks on one monetized channel per platform.
Commercial Plan – $19.99/month: Can publish tracks anywhere online, on up to three monetized channels per platform and can publish content for your clients, businesses and in digital ads/online advertising.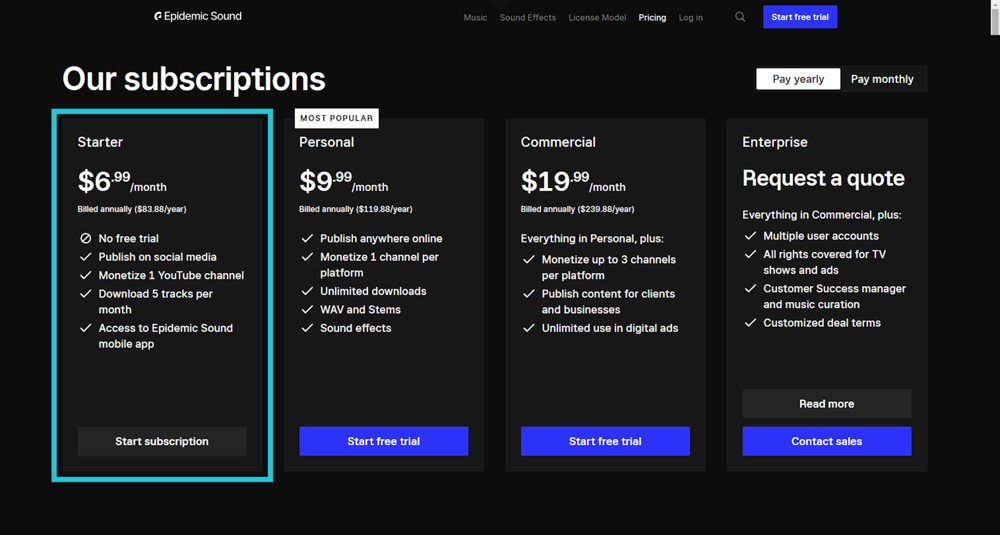 Artlist
We're big fans of Artlist. It has an extensive catalog of music, super refined search functionality and a well-priced subscription.
Like Creator Mix and Epidemic Sound, they make the whole licensing process really simple. There's too many other platforms out there that over complicate this process and licensing is something that you really don't want to get wrong!
Not only does Artlist give you access to a ton of music and SFX, but they also recently combined with one of their previous services, Artgrid. This means you can also get access to stock footage, templates, plugins and video editing apps.
In terms of finding the right track, we'd say Artlist has the most user-friendly and intuitive interface. The search functionality is really powerful too.
It has lots of different categories that you can use to narrow down your selection based on mood, theme, genre (e.g. hip hop), or even instrument (e.g. acoustic guitar, piano, ukulele).
Pricing
There are lots of different pricing options for Artlist depending on what you want access to. If you want access to unlimited music, audio effects and downloads with a lifetime license, the options for the Music & SFX Plans are:
Social – $9.99/month: Access to all music & audio tracks and will cover you across all your social media channels (non commercial use).
Pro – $16.60/month: Everything on the Social plan plus it covers you for commercial purposes as well (e.g. client work, paid ads, broadcast).
Teams – $28.20/month: If you're working on a project with a big team, then this plan will be right for you.
There's also the Footage & Templates plans that start from $19.99 per month.
Or you can get access to everything on one of the Artlist Max plans:
Max Social – $29.99/month: This gives you access to music, audio tracks, footage, video templates, video editing apps, image editing tools and all of the editing plugins.
Max Pro – $39.99/month: Everything in the Social plan plus you get higher quality footage (up to 8k), access to the Pro versions of their video editing app HitFilm and access to raw & log footage as well.
Now we know this guide is about stock music, but it's awesome to see such a great all-you-can-eat subscription for all those services bundled together.
Best Royalty Free Music for YouTube Videos?
There you have it – the best free and paid options for royalty free background music right now. But which is the best option for you?
First you need to take into account your budget and other specific requirements surrounding what you need.
Then test out each of these sites, either by grabbing a free trial or by scrolling through and listening to the types of music available on there.
The music you use in your videos is what dictates the vibe and feeling a viewer will get when they're watching it. If you pick the wrong music track, it could drastically change your video.
Here at Primal Video, we're long time users of both Epidemic Sound and Artlist. We have active subscriptions of both services and you'll find the vast majority of music on our channel is from one of these two platforms.
Using these platforms means you're free from the stress involved with other options like creative commons licenses.
Now that you've got your royalty free music sorted, check out our complete guide on the Best Stock Footage Sites.
Interested in learning more tips and tricks for creating quality video content? Check out our guide on the ULTIMATE Process for Editing Videos Faster. This free download provides you with tons of video editing tips and tricks that can take your videos to an entirely new level.
FAQ
Where can I get free royalty free music?
If you're looking for free background music for your YouTube videos or other video projects, we recommend checking out the YouTube Audio Library or Creator Mix.
Can royalty free music be free?
Yes, it can! There are some great free options for royalty free music.
Do you have to use royalty free music for YouTube?
If you don't use royalty free music for YouTube, you risk getting copyright issues and your content could be monetized.
---
Check out an up-to-date list of all the gear, software & tools we use and recommend right now at Primal Video on our resources page here!
Related Content