CapCut is a super popular video editing app for iPhone & Android… But it's also a great option if you're looking for free video editing software on DESKTOP as well!
Whether you're a complete beginner or a more experienced video editor looking for something to do quick & easy edits in, CapCut for PC & Mac is an awesome tool.
Important: When available, we use affiliate links and may earn a commission!
While it is from the same company behind TikTok (ByteDance), it's not JUST a TikTok video editor – you can easily use it to create great videos for YouTube, Facebook, or any other use case!
In this video we'll share a complete CapCut video editor tutorial on desktop, showing you exactly how to edit on CapCut. You'll be able to create a video project from start to finish, using a ton of cool tools & effects to help you create great videos.
PRO TIP: If you don't have it already, you can download CapCut for free here.
Here's what we'll cover:
Plus we'll share some of the best CapCut video editing tips and tricks along the way!
Let's get started.
Project Settings
Just a heads up, we'll be running through this CapCut video editor tutorial on Mac but it will be exactly the same if you're on PC!
First things first, open up CapCut for desktop. We'll take a quick look at the project settings before diving into the interface & how to edit videos.
In the top right corner click the Settings icon. Here you can adjust:
Specify the location your project will be saved
Adjust image duration
Set video frame rate
CapCut Interface
Hit Start Creating and you'll be taken to the main editing interface.
Along the top you can access Media, Audio, Text, Stickers, Effects, Transitions, Filters and Adjustment.
The right window is where you can play back your editing masterpiece.
Along the bottom is the editing timeline. This is where the actual editing videos take place!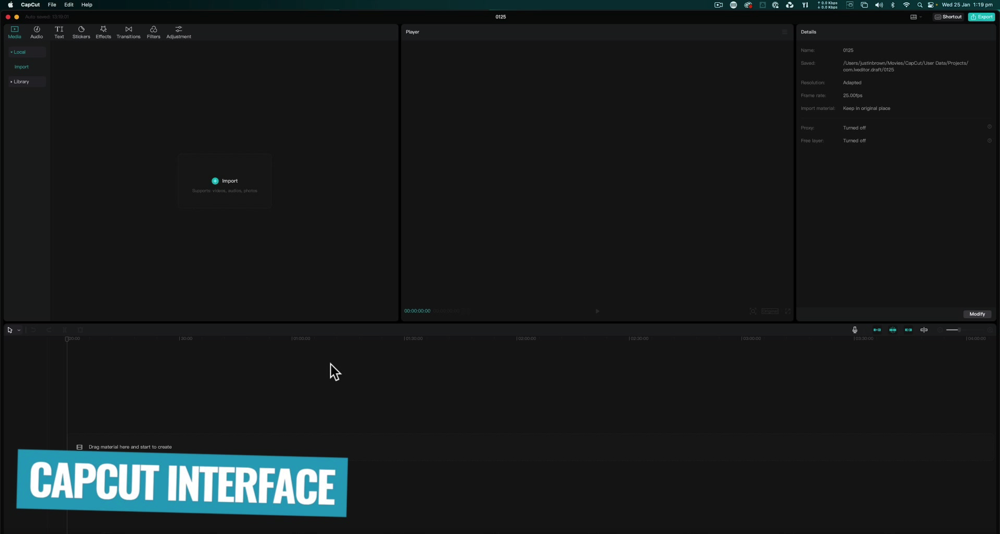 How To Import Footage
Make sure Media is selected in the top menu. You can either click the Import button or drag and drop your video files into the Import window.
Then click and drag your primary footage onto the timeline.
PRO TIP: Once you've added your primary footage, you're able to adjust the aspect ratio of the video. This means you can switch your project from a regular YouTube video format to an Instagram Reel format (for example!). So you can really easily create content in a range of formats.
How To Cut Footage
The first step of editing your project is to remove all the bad takes and mistakes until you're left with only the footage you want to use in your final project.
Go to the start of your footage on the editing timeline.
PRO TIP: You can zoom in and out on the timeline by adjusting the slider or using the keyboard shortcuts Control/Command + and -.
You'll notice under the image on the video clips are the audio waveforms. This is a visual representation of the audio in the video.
Paying attention to the audio waveforms is a great way to quickly tell which footage needs to be removed.
For example, you can super quickly tell at what point you begin talking in the footage and how much footage you need to remove.
There are a few different ways you can edit and cut your footage. We'll dive into those now.
Trim Footage With Handles
Select your video clip on the timeline. Hover the mouse over the very beginning section and a Handle icon will appear.
Click and drag the beginning of the clip to the point that you want the footage to begin. When you let it go, that will be the new start point of the video.
PRO TIP: You can click and drag the white vertical line to scrub through your footage. This is helpful to find where you want to insert cuts and trim the footage.
Cut Footage With Split Tool
Switch to Split mode by pressing B on the keyboard. As an example, go to the end of your video footage and find the point where you want your video to end. Then click on the timeline at that point to create a cut.
After that cut is made, you can select the piece of footage you no longer want and then press the Delete button on the keyboard.
To go back to the normal Select mode, press A on the keyboard.
Alternatively, instead of switching between Split and Select mode, you can place the playback head where you want a cut to occur. Then select Command/Control B.
Once you've created a single cut, you can either use the Handle tool to trim the footage or you can create another cut and delete the unnecessary clip.
PRO TIP: You can move clips around by clicking and dragging them on the timeline. This allows you to be really purposeful in how you're building out the story.
How To Add B-Roll
If you haven't already, import your b-roll footage using the methods mentioned above.
Click and drag a b-roll clip down onto the timeline above your primary footage. This will automatically create a new video layer.
All the same video editing tools we used to edit the primary footage can be used for the b-roll footage as well. You can trim and cut the video clips so you're only left with the exact footage you want in your finished project.
Add in any other b-roll clips you want to include. You can move them around on the timeline to continue building out the story.
PRO TIP: If your b-roll footage clips have audio associated with them that you don't want included in your video, you can mute the audio on the entire video layer. On the left of the video layer, select Mute Clip Audio.
How To Add Text
In the top menu select Text. You can just use the default text option. Or if you go to the left menu and select Text Template, you'll see a ton of different preset templates.
Some of these presets are actually pretty cool! You can literally just drag and drop them onto your projects and you can customize them up which is awesome.
While there are some great options, our favorite place to go for titles and animations is VideoHive #LINK.
If you want to use a built-in CapCut title, select one and drag it onto the timeline above the b-roll layer. Just like the other clips, you can change the duration of the clip by adjusting its length.
To customize the title and change the text, select the clip on the timeline and then double click on the element inside the playback window. This will open up a bunch of options. You can get really creative and customize this to match your brand.
PRO TIP: You can even save presets so you don't need to create everything from scratch every time you want to insert a title.
Add in as many title and text elements as you want throughout your video at this point.
CapCut Feature: Linking
One particularly useful feature in CapCut is linking. It connects text and stickers to the primary footage. So after adding one of those clips to the timeline, it will be linked to the primary footage beneath it. Then when you go to move the primary footage, the other clip will come with it.
Not a fan of this feature? You can turn it off by selecting Turn Off Linkage in the right menu above the editing timeline.
How To Add Transitions
Select Transitions in the top menu bar. Just like the titles, CapCut has a ton of options when it comes to transitions.
Some of these are very basic and could cheapen the look of your video. But there are some that are pretty cool and could help you get more creative with your edits.
All you need to do is drag and drop a transition in between different clips on your timeline.
However, for something like our regular YouTube videos where you're transitioning between two clips that look very similar, we wouldn't recommend using one of those effects.
Instead, we would zoom in slightly on one of the clips to create a zoom cut. This is a great way to keep viewers engaged by changing up the look of your shot.
To do this, select a clip on the video editing timeline. Select Video in the top right menu. Adjust the Scale slider to zoom in slightly. You don't want to go overboard with this – we'd recommend going from 100% up to 110%.
Try to match the eye position in both shots so there's not a jarring effect for your viewers.
How To Add Effects
Go to Effects in the top menu bar and you'll find a heap of video effects. These aren't necessarily movie style video filters but there are some cool ones in here!
Depending on the type of video you're creating, these could be really helpful or they could be distracting for your viewers.
To add an effect, simply drag it onto a video clip on the timeline.
There are other effects you can access by selecting a video clip and going to the menu in the top right window. Here you can access things like:
Stabilize: This is great for if you have shaky footage
Speed: You can speed up or slow down your video speed
Animation: Another fun way to get more creative with your edit
Motion Tracking: Track the movements of an object within your scene
How To Add Audio
There's a bunch of music and sound effects built into CapCut. Unfortunately a lot of it is copyright music, which you can only legally use on TikTok. So we'd strongly advise that you use your own music or music that you have the licenses to use.
Our top recommended sites for music are Epidemic Sound and Artlist. Using tools like these means you know you're completely covered when it comes to licensing.
You can import your own music using the same process we used early to import primary and b-roll footage.
Then drag the audio clip onto the video editing timeline below the primary video footage.
Just like all the other clips, you can move music clips around, trim them, cut them, etc.
PRO TIP: It's a good idea to play back through your project with music as you might find you're adjusting the timing or placement of cuts to suit the audio.
How To Adjust Audio Levels
We always recommend setting the primary audio levels first. Then you can go back and adjust the music volume afterwards.
So start by clicking the Mute button on the music layer. This allows us to completely focus on the primary audio.
Press the Audio Bars button and you'll see audio bars appear on the right side of the timeline. Then play your project and watch the audio levels. You want the levels to go up into the green, but not hitting 0 or going into the red area.
If your volume is too loud and it goes too close to the 0, it will start distorting and it will not sound good!
In the case that you do need to adjust those volume levels, select the clip on the timeline, go to Audio in the top right menu and adjust the slider bar under Volume.
You can also adjust the audio levels on the clip itself. You'll see a faint white line along the bottom of the clip. If you lift that up it will boost the volume, if you pull it down it will lower the volume.
Once you're happy with the primary audio levels, you can go ahead and adjust the background music.
This really comes down to personal preference. As a general rule we usually start around -25 to -30 so that could be a good starting point for you. Make sure you listen through and make any adjustments as you go.
PRO TIP: If you have a lot of background noise in your audio, select the clip, go to Audio in the top right window and tick the box labeled Noise Reduction.
How To Color Grade
There are two main options when it comes to color grading your video projects in CapCut: using filters and doing manual adjustments.
Color Grading With Filters
Go to Filters in the top menu bar. Once again, CapCut has heaps of presets you can use for color adjustment. You could think of these like Instagram filters.
If you find a filter you like, simply drag it onto your clips and you're good to go.
Instead of manually applying an effect to each and every clip, you can apply an effect to the timeline itself – like an adjustment layer.
So if you drag an effect onto the timeline, it becomes its own clip. Then every clip beneath it will have that effect applied to it.
Color Grading Manually
To color grade manually, select the clip, go to Adjustment in the top right window and here you have a ton of options you can customize.
Alternatively, instead of doing this on a clip-by-clip basis you can go to Adjustment in the top menu bar and drag a Custom Adjustment onto the timeline.
Then you can make any color grading changes to that clip (e.g. saturation, brightness, contrast) in the top right window which will be applied to all clips beneath it.
You could stretch this adjustment layer across your entire project or just a specific section.
How To Add Captions
If you want to add captions to your video, you're in luck! There's a really powerful auto captioning tool in CapCut.
Go to Text in the top menu bar then in the left menu select Auto Captions and hit Create.
Your video will be analyzed and then after a moment or two you'll see the text captions appear along the bottom of your video.
There are a ton of customization options (just like with the titles) that you can adjust to dial in the look and feel of your captions.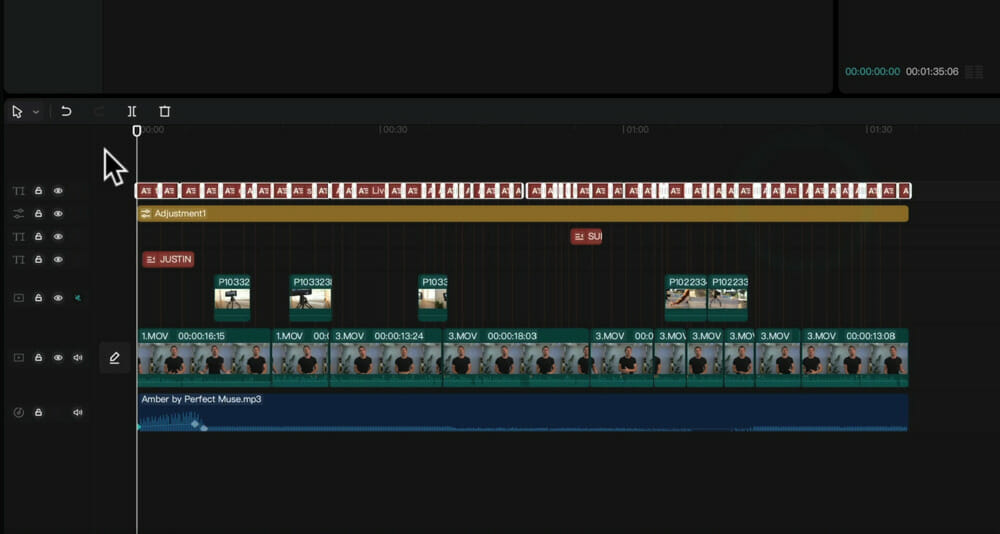 How To Export
Once you're happy with the final product, it's time to export. Go to Export in the top right corner. Give your project a name and adjust any settings if needed.
Hit Export again and the project will save out.
There you have it – our complete CapCut for desktop tutorial!
If you want to learn how to edit videos faster and more efficiently in any video editor, check out our free PDF guide The Primal Video Method. It's the ultimate process to help you minimize wasted time and rework!
FAQ
Is CapCut hard to use?
CapCut is one of the best video editing apps for beginners because it's super intuitive and easy to use. You can dive in and very quickly figure out how to create something awesome!
How do you make edits with CapCut?
You can make edits in CapCut using a number of tools. The Split tool allows you to cut clips and the Trim tool allows you to shorten a clip by dragging its start or beginning.
How do you use CapCut step by step?
You can learn how to use CapCut step by step by following the above process!
Is CapCut for PC & Mac good for editing?
---
Check out an up-to-date list of all the gear, software & tools we use and recommend right now at Primal Video on our resources page here!
Related Content