If you've every wondering "how much does YouTube pay…?" this is for you! In this guide you'll learn how much YouTubers make AND how much money YOU can make with a successful YouTube channel.
You might have noticed there's a huge range in income for different YouTube channels and for different YouTube niches. Some make good money while others get almost nothing. And it's not always related to how many subscribers a channel has!
Important: When available, we use affiliate links and may earn a commission!
Even within the same channel, videos with a similar number of views might make hugely different amounts of YouTube ad revenue. In this article, we'll explain WHY that happens.
We'll go behind the scenes and give you some different examples from our channel, which currently has 1.3 million subscribers, so you can get a good idea of how we make money from YouTube ads here at Primal Video.
Make sure you stick around until the end to find out how much money we've generated from the BIGGEST video on our channel.
What Is YouTube CPM?
Before we get started, if you're diving into info about YouTube ad revenue you'll probably come across the term 'CPM'.
This stands for Cost Per Mille which means cost per 1,000 impressions. It represents how much an advertiser will pay to show ads on YouTube.
Now let's take a look at some videos that are around the 100,000 view mark.
How Much YouTube Pays: 100,000 Views
We'll run through a range of different videos on our YouTube channel with around 100,000 views. This will give you an idea of how vastly different the amounts of money YouTubers make is!
100,000 Views: Example 1
Video: Facebook Live Stream Gear: Best Microphone for iPhone & Android!
Published: 6 November 2016
Views: 102.3K
Subscribers: +475
Estimated Revenue: $514.33
Over the lifespan of this video, it has brought in $514.33. But there's a massive range in day-to-day income. Some days it made $1.60 and other days it made $0.14. There are random spikes and falls over the video's lifetime.
This shows you how it really is out of your control. The amount of ad revenue comes down to demand from companies or brands wanting to run ads on your content and how much those advertisers pay.
100,000 Views: Example 2
Video: iMovie Tutorial for Mac – The COMPLETE Guide!
Published: 21 November 2021
Views: 103.6K
Subscribers: +996
Estimated Revenue: $1,530.99
The majority of views (65.7%) for this video are coming from YouTube search.
This is because we optimize our content and do the research upfront to ensure we show up consistently in search results. We're not just hoping that a video will take off and go viral.
This means we have a higher chance of a video performing and being relevant for a long period of time.
Even though this video has been up for far less time than the previous one, it's brought in three times as much money.
100,000 Views: Example 3
Video: How to Make Money on YouTube with a SMALL CHANNEL!
Published: 11 October 2020
Views: 103.7K
Subscribers: +1.4K
Estimated Revenue: $3,300.80
What's interesting about this one is that in the last 48 hours, the top traffic source (54.3%) had come from 'External'. If we go into Reach we'll see that the external source is Google Search.
So not only are we able to optimize our content so it shows up in YouTube, but we can also have it showing up when people search in Google.
The Overview graph shows that this video is performing nowhere near as well as most of our other YouTube videos. But it's still appearing, ranking, getting views and generating income for us years after it was uploaded.
So that's three examples of three totally different videos on our channel. They all have around 100,000 views but were uploaded at vastly different times and have brought in very different amounts of money.
These are really just average videos on our channel – they're by no means the biggest or the smallest. Now let's check out some videos with 1,00,000 views.
How Much Does YouTube Pay: 1 Million Views
These examples will give you an idea of how much YouTubers make with a large audience or strong following. Keep in mind there could be a staggering amount of difference between channels and niches.
1,000,000 Views: Example 1
Video: Final Cut Pro vs Adobe Premiere: Best Video Editor?
Published: 19 November 2016
Views: 1M
Subscribers: +4.6K
Estimated Revenue: $4,308.34
Over the lifetime of this video, the number one way viewers found this video was through YouTube Search (39.4%). But there's also 31.8% from External which came from Google search.
By optimizing our content around knowing what people are searching for, we're also giving YouTube a lot of the key ranking factors it uses to decide which content shows up in suggested and recommended areas on the platform.
So by targeting YouTube search, we can also get our content showing up in multiple other places across the platform as well.
1,000,000 Views: Example 2
Video: CapCut Video Editing Tutorial – COMPLETE Guide (2021)
Published: 5th September 2021
Views: 1M
Subscribers: +10.5K
Estimated Revenue: $4,924.59
Even though this video has been up for a much shorter time, it's already generated much more money.
Over the video's lifetime, 49.2% came from YouTube Search, 28.0% came from Suggested and 13.8% came from External. Over the last 48 hours, 65.7% of views came from YouTube Search.
Hopefully this really demonstrates that we're not relying on a video going viral. We're being really strategic with our content.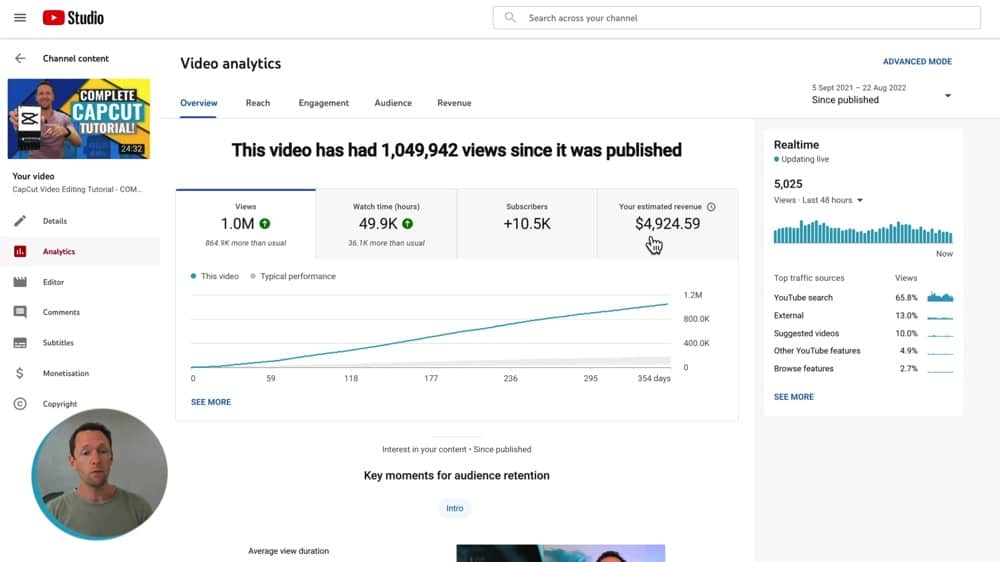 1,000,000 Views: Example 3
Video: How to Change YouTube Channel Name (Step-by-Step!)
Published: 1 November 2020
Views: 1M
Subscribers: + 6K
Estimated Revenue: $9,908.86
The top traffic source for this video is YouTube search at 89.3%! In the last 48 hours it still had 3,376 views. You can tell from the graph that views are continuing on an upward trend. It doesn't look like we'll see a decline any time soon.
Our Highest Earning YouTube Video
This is the video that has generated the most views and income on our YouTube channel…
Video: How To Create A YouTube Channel! (2020 Beginner's Guide)
Published: 16 February 2020
Views: 8M
Subscribers: +192.7K
Estimated Revenue: $65,392.52
It currently has 8 million views. This single video has brought in over $65k in advertising earnings.
The next biggest video on our channel has 3.3 million views, so it really is a standout for us. It's brought in 11,800 views in the last 48 hours.
Once again, it's very heavily search focused. Over 60% of the views have come from YouTube Search.
Why You Shouldn't Rely On YouTube Ad Revenue
If we take a look at the videos that have brought in the most earnings over the life of our channel, we can see that views definitely don't correlate to income. There's often a huge discrepancy between how many views you get and how much money you make.
That's because at the end of the day it comes down to companies, businesses and individuals running ads on a video.
How much an advertiser pays is driven by how much competition there is to run ads on those videos. The more competition there is, the higher the ads cost. The more advertisers pay, the more money you can potentially make.
But there's an added variable. Even if you have a video that takes off and gets a lot of advertising revenue, it can then suddenly drop off. It's all beyond your control.
So even though YouTube ad revenue is a great way of making money, it's probably not something you want to rely on and build your business around.
This is purely because anything could happen. There could be another Adpocalypse and companies could stop running ads. Or YouTube might change the amount that it gives to creators.
There are other factors at play. Whether you're an average YouTuber or one of the highest paid YouTubers, it's potentially risky to rely on that.
That's why here at Primal Video, ad revenue is just one of three income streams we have. Our income sources are YouTube ad revenue, affiliate marketing (the biggest stream) and digital products (our Primal Video Accelerator course).
Of course, as YouTube creators once you've joined the YouTube Partner Program there are other ways of earning money than just ad views.
There's brand sponsorships or brand deals, Super Chat, Super Stickers, merch shelf, etc. But if you want to achieve financial success and stability, it's still a good idea to diversify your income streams.
You'll notice that even the top paid YouTubers who have a super large following and fairly reliable ad views, have different sources of income that make up their net worth.
If you want to hear more about our different revenue streams, find out How We Make $1M+ From YouTube.
And if you're interested in learning about our YouTube strategy and how we use keyword research to create content we KNOW people want, check out this free PDF copy of the Primal Video Method.
---
Links
When available, we use affiliate links and may earn a commission!
Primal Video Resources:
---
Check out an up-to-date list of all the gear, software & tools we use and recommend right now at Primal Video on our resources page here!
Related Content