One of the biggest things holding people back from creating videos is thinking they don't have the right YouTube studio filming setup. They think they don't have the right gear or their studio isn't big enough… 
But the truth is you can film awesome YouTube videos from pretty much anywhere and with even the most basic gear!
Important: When available, we use affiliate links and may earn a commission!
To prove this point, I shot a YouTube video in a call booth at a coworking space using my smartphone. I wanted to show you just how easy and simple filming can be!
In this guide, I'll run through an easy YouTube studio setup for small spaces and help you find a good filming location even if you're tight on space! You'll learn some great YouTube studio ideas along the way.
Feel free to watch the video above or read on below. 
Simple & Cheap YouTube Filming Setup
This small YouTube studio setup can easily be replicated at home or really anywhere!
You don't need a professional camera or a fancy background to create awesome YouTube videos. Using your smartphone or even a webcam will get the job done!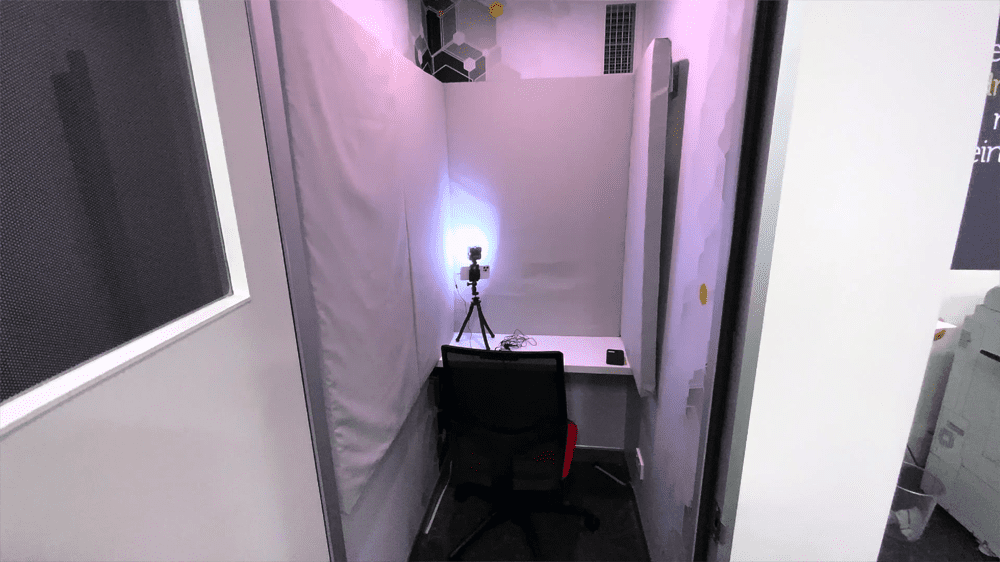 Here's a run through of what I used to film this tiny studio YouTube video:
Smartphone
I used an iPhone 12 Pro – it's not the latest model but it's more than enough. I filmed with a wide angle lens to make the room look a little bigger than it is. This is a great idea if you're filming in a small space. The wide angle lens can make a world of difference. If your phone doesn't have a built-in wide angle lens, you can buy a clip-on one for super cheap.
Small Tripod
This is a basic desktop tripod. I just used it to hold the phone in place so I didn't have to hold it myself. This creates a more stable, professional looking shot. If you don't have a tripod, you can use a pile of books and sit your phone on top.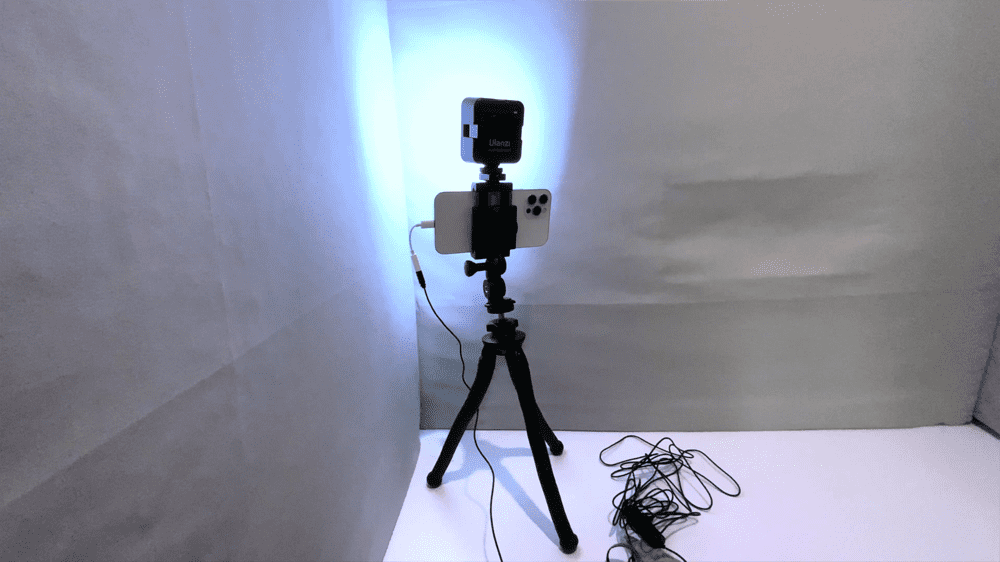 Light
I used one main light. Instead of having the light shining straight onto my face, I faced it to the wall so that the light was shooting off and reflecting on me. This is a great way to get softer lighting.
Lavalier Microphone
When creating videos, apart from the content the most important part is the audio. So if you're only going to buy one piece of filming gear – I'd recommend making it a microphone. I used the Boya BY-M1 in this video. It's only $15 and is a great quality mic.
And that's all the gear I used to create a YouTube video! It's all super affordable. If you want to learn more about awesome cheap filming gear, check out our guide on the Best Cheap Smartphone Filming Accessories.
But there's no need to run out and purchase all of these things. I recommend starting with what you have and upgrading when you can or when you have to.
Finding a Good YouTube Filming Location
If you're struggling to find a good filming location, look for a place that:
Is out of the way, so you can take your time filming and won't feel rushed to finish quickly (e.g. don't film in your living room if you know the kids will be coming home soon)
Matches the type of videos you're creating (you wouldn't film a cooking video in the gym… unless that's the type of content you're making!)
Is quiet and doesn't have a lot of background noise (this also makes a better video for your viewers because the audio will be better)
You can leave your filming gear set up so you don't need to pack up every time you film
When looking for a YouTube filming location, always go for practicality. The background doesn't need to be as pretty or polished as you might think. The content is much more important than what's going on behind you!
If you can't find a location that has a great background for YouTube videos that matches the type of video you're making, just try to film in front of a plain wall. That's much better than trying to set up something amazing and procrastinating filming.
Simplicity is really important here. Just focus on creating videos. After you've got some experience, then you can work on building out a nice background or a dedicated YouTube filming studio when you have the time. That stuff isn't required straight away.
So, now you know just how little gear and space you really need to get started on YouTube.
Obviously this isn't where we usually film videos and you don't need to rent out a call booth in a co-working space either. But I'm sure there's a corner in your home, office or bedroom that you could use as a YouTube home studio to start filming in. 

Now that you've got your YouTube set up sorted, learn how to structure your videos for maximum engagement with this tutorial on How to Make a Good YouTube Video.
---
Links
When available, we use affiliate links and may earn a commission!
---
Check out an up-to-date list of all the gear, software & tools we use and recommend right now at Primal Video on our resources page here!
Related Content